ImKukie2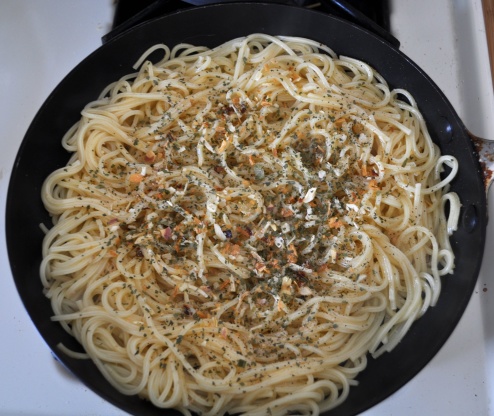 From Hugo's Restaurant, www.hugosrestaurant.com
Prepare pasta – fresh takes 2-3 minutes; follow directions on packaging of dry pasta (Leftover pasta can also be used. Add at same time as it is added below and warm in pan with 1 TBS. hot water before adding eggs.).
Turn on medium flame. Pour oil (or melt butter) in 10 inch sauté pan.
Add minced garlic and the last four ingredients (seasonings) ; sauté together 1-2 minute.
Add parsley; add pasta with 1 TBS hot water (Make sure leftover pasta or cold pasta is hot before adding parsley or eggs).
Add beaten eggs. Mix thoroughly.
Add Parmesan, cook through and serve.