Cuistot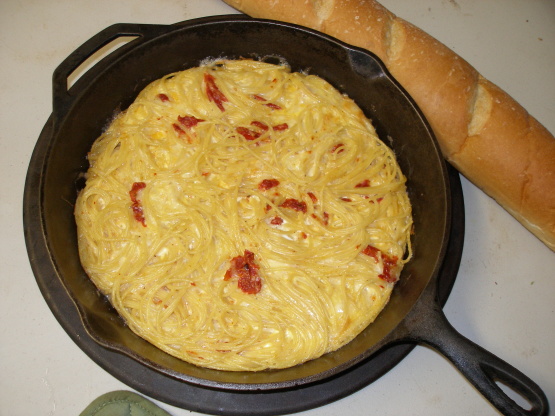 This is a rich, delicious dish. It's very simple, but you need to cook the spaghetti ahead of time so it can cool. The frittata can be served at room temperature.

This was very good. I cut the recipe in half, and used fetucinni noodles instead of spaghetti. Kosher salt was what I have on hand, rather than table salt, so I think a little more would have been good. I loved how the sweetness of the tomatoes gave an interesting bite to the cheesy pasta. I had this for dinner, a salad on the side would be a complete meal. I'm thinking to try this with other vegetables in place of (or along with) the tomatoes, aparagus is the first that comes to mind. I'll enjoy the leftovers tomorrow for lunch. Thanks for posting!
Ahead of time: Cook spaghetti in a large pot of boiling salted water until tender, but not too soft, about 8 minutes; drain. Toss with sun-dried tomatoes and set aside to cool.
When the pasta is cool: In a large bowl, whisk the eggs, salt, pepper, parmesan and fontina cheese to blend.
Add the pasta and toss to coat.
Melt butter and oil in a 9 1/2 inch nonstick skillet over medium heat.
Transfer pasta mixture to the skillet, pressing to form an even layer. Cook until the bottom is golden brown, about 3 minutes.
Place skillet under broiler and broil until top is golden brown, about 5 minutes.
Cool to room temperature, then invert the frittata onto a platter and cut into wedges.