Pasta Flora (Greek Jam Tart)
Irmgard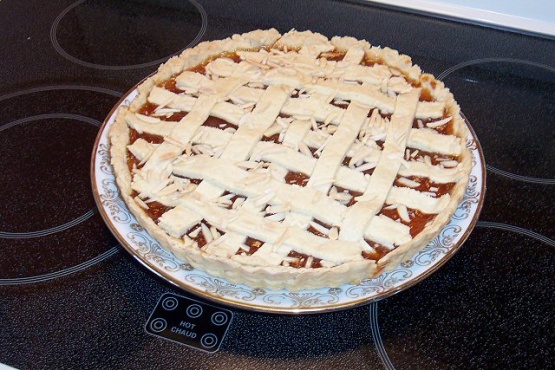 A lovely very simle to make family-sized jam tart. I have been looking for a recipe for this for years. In Cairo, we hae a very strong Greek influence, and I'd tasted this before and assumed it was time-consuming to make. Evelyn you hae proved me wrong! Melt-in-the-mouth crumbly pastry contrasts beautifully with the Apricot jam. The lemon rind ensured the jam was not too sweet. We omitted the brandy and substituted fresh orange juice. Now all my relatives are after this recipe!! Thank you so much Evelyn!
3

cups flour

1

teaspoon baking powder

1

cup butter, room temperature
1⁄3 cup sugar

2

egg yolks

1

tablespoon grated lemon, zest of

1

teaspoon vanilla
1⁄2 teaspoon lemon extract or 1⁄2 teaspoon almond extract
1 1⁄2 cups sour cherry jam or 1 1⁄2 cups apricot jam
1⁄4 cup blanched slivered almond
Sift together the flour and the baking powder into a bowl.
Cream the butter with an electric mixer.
Add the sugar and beat until the mixture is pale and light-coloured (about 5 minutes), scraping the sides of the bowl with a rubber spatula from time to time.
Add the egg yolks one by one.
Then add the brandy and the flavorings.
Stop beating, and fold in the flour a little at a time, with a wooden spoon, blending it evenly into the mixture.
When the dough becomes too stiff to stir, mix the flour in by hand until the dough is smooth and elastic (you may need to add a little water or milk to your dough to achieve this consistency - just a little at a time).
Avoid overworking the dough.
Cover dough in plastic wrap and allow to rest for 20 minutes before proceeding with recipe.
On a floured surface roll out 2/3s of the dough into a round and line a buttered 10" pie dish or tart pan.
Spread the jam over the dough.
Roll out the reserved dough to a thickness of 1/8" and cut it into strips 1/2" wide.
Lay them across the filling in a lattice pattern.
Decorate with the almonds and bake the tart in a 350F degree oven for 30-35 minutes until light-golden.
Store the tart uncovered, in a dry, cool place to prevent it from getting soggy.
It can be kept one week at room temperature.