Quick and Easy! This is always a crowd pleaser.
Directions
Combine first 9 ingredients in a large pot.
Bring to a boil, then turn heat down and simmer for 30 minutes.
While soup is simmering, boil pasta according to package directions.
While pasta is cooking, brown ground beef in skillet until done.
Drain any grease.
Add pasta and ground beef to soup.
Enjoy!
Reviews
Most Helpful
Excellent recipe. I didn't have enough italian seasoning so I used only oregano instead. That worked. It didn't work as well for leftovers because the ditalini absorbed most of the water whilst in the refrigerator. I also topped with grated parmesan and made this recipe a big winner!
My family loves this soup. It is so quick and easy to make. I make two soups every Monday and we alternate eating them during the week. I usually make the pasta and put it in another container to add to the soup right before we eat it so it doesn't get too mushy. My mom requests it at least twice a month. We also top this with fresh grated parm! Yummy. (I have also made this for Hindi friends by using ground turkey instead of ground beef.)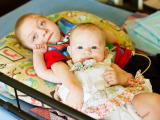 We used ground turkey meat, large penne-type noodles, added shredded carrot. YUMMM!