gailanng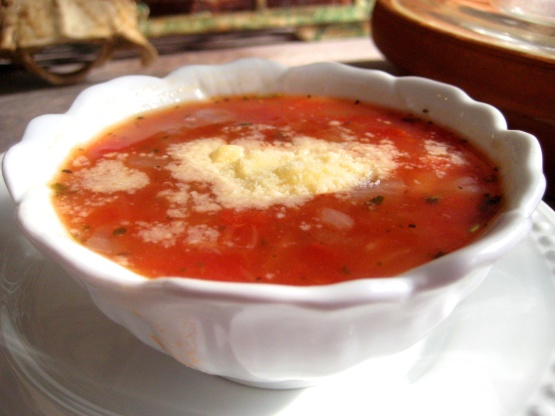 You are going to love this one! This soup is chocked full of flavor and you can have it on the table in about 40 minutes. Be good to yourself and add a touch of freshly grated Parmesan cheese to top it off. I hope you will enjoy this recipe as much as I do.

I have to say I had my doubts about how good this would taste as simple as it is but WOW! DH told me this had to become a regular in the meal rotation. He did say, like some of the other posters, it would be best if the tomatoes were smaller. so next time they go in for food processor just enough to make them smaller. Bev, thank you so much for sharing! :)
Heat oil in a large pot over medium heat until hot.
Add onion and garlic to oil.
Sauté for 5 minutes or until onion is tender.
Stir in tomatoes with liquid, chicken broth, beans, parsley, basil and pepper.
Bring to a boil over high heat, stirring occasionally.
Reduce heat to low and simmer, covered for 10 minutes.
Add pasta.
Continue to simmer, covered for about 10 minutes or until pasta is tender.
Garnish with freshly grated Parmesan cheese if you desire.