Pasta E Fagioli Soup With Ground Beef and Spinach
this is a delicious hearty soup that is best if prepared a day ahead to blend the flavors, you can use fresh plum tomatoes in place of canned, make certain to blanch then peel the tomatoes firsly. Use your own favorite pasta sauce for this, homemade or purchased, if you like more beans then add in more! This makes a lot of soup but you can reduce to half or freeze for another meal. It is important to simmer this soup over a low heat uncovered for a longer time so that the soup will reduce and thicken and the flavors blend together, the longer it is simmered the better it will be, this soup can also be made in a crockpot but you will need to brown the beef with veggies in a skillet firstly --- the spinach may be replaced with zucchini or use both --- you will love this soup!
Directions
In a large pot (use a 10-quart pot for this) cook the ground beef with onion, garlic, celery, oregano and dried chili flakes until the beef is well browned; drain fat, then add in 1/2 cup Parmesan cheese along will all remaining ingredients except the shell pasta, spinach and the Tabasco; bring to a boil and simmer UNCOVERED overlow heat for about 1-1/2 hours (or more).
Add in the spinach and shell pasta about the last 15 minutes of cooking and continue to simmer over low heat until the pasta is cooked.
Season with salt and pepper and Tabasco (if using).
Ladle into bowls and top with more Parmesan cheese.
Reviews
Most Helpful
We enjoyed this hearty soup! I used pre-cooked, frozen Italian meatballs and added some chopped red & green bell peppers, along with about 4 oz. chopped fresh spinach I had on hand.
We loved this soup! I used a dozen of your meatballs Kittencal's Italian Melt-In-Your-Mouth Meatballs I had in the freezer instead of the ground beef and also subbed some leftover garbanzo beans for the other beans. We had some friends over and ate the whole pot! Thanks for posting!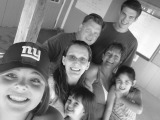 This Stoup (part soup/part stew) is wonderful. Full of goodness. My whole family (2 little ones included) loved it. I shared it with a friend who has a house full of PICKY eaters and they all loved it. Also - make sure to freeze some. I left out the Tabasco sauce there was plenty of bite to it already. They only negative point was the pasta turned out to mushy. Next time would add it for the last 10 minutes, not 25 min. per the recipe. Thank you!