lets.eat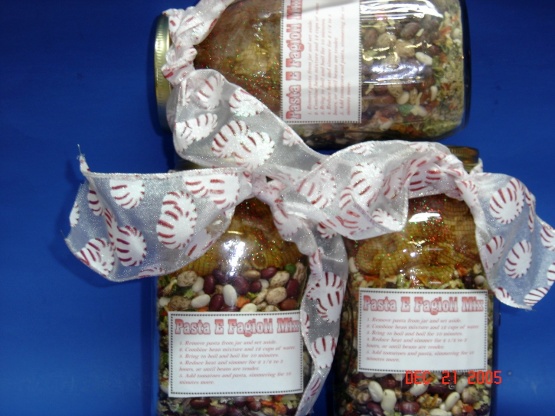 Here's a neat little gift to give with jams and jellies.

I made this as gifts to give to my friends. What a wonderful idea. I put the bean mixture in a jar and then the pasta in a separate jar. I wrapped them up in gift baskets with the instructions on how to make the soup. Looked beautiful and were very well received by my girlfriends. Thanks Diana
Pick through beans.
Combine with all the ingredients except pasta, which you want to tie in a little mesh or plastic bag.
Place in a decorative jar, tie with a ribbon and give with 1 28 oz can of stewed tomatoes and: In a large stockpot, combine bean mixture and 12 cups water.
Bring to a boil and boil for 10 minutes.
Reduce heat and simmer for 2 and 1/2 to 3 hours, or until beans are tender.
Add tomatoes and pasta, simmering for 10 minutes more.