Pixie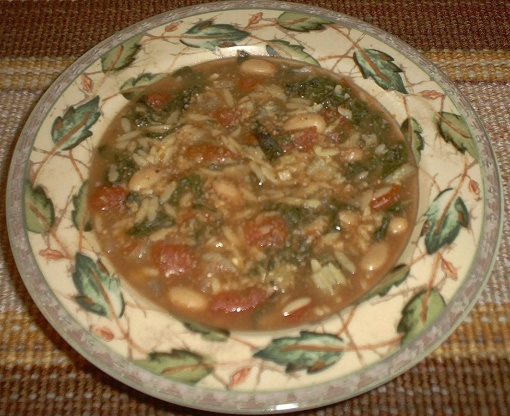 A great tasting Soup, and pretty easy to make, has great color, great with some crusty italian bread. I made my own chicken stock so calories was more. Enjoy :)

This is a great version of this soup that I have made many times. You can substitute spinach leaves (which I seem to have in the house more often than not) in place of the chard. I am thinking the *swiss cheese* mentioned in the ingredient list does not belong???
Warm the oil in a large saucepan over medium heat.
Add the onion and garlic.
Cook,stirring occasionally, for 3 to 5 minutes, or until the onion is soft.
Add the broth, tomatoes (with juice),beans, and pasta.
Cook,stirring occasionally, for 15 minutes, or until the pasta is cooked.
Add the Swiss chard and salt.
Cook, stirring occasionally, for 2 to 3 minutes longer, or until the swiss chard is wilted.
For added flavor, sprinkle grated Parmesan cheese and black pepper on the pasta e fagiole just before serving.