Olive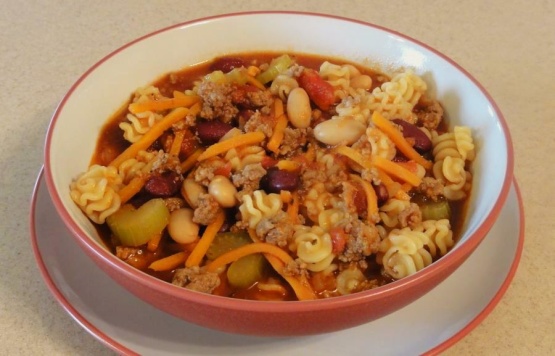 This is my son's favorite soup. He thinks it tastes just like Olive Gardens. Never any leftovers with this soup. I hope you enjoy it as much as my family does.

Loved this!!!!! I did add 2 cups of beef broth, when I added all of the other ingredients. I also made the pasta seperately and let my guests "add their own".
Brown the hamburger, drain off the fat.
Add onion, carrot, celery and garlic and sauté until onion is clear (approx 10 minutes).
Add everything else except pasta, and simmer on low for one hour.
I add the pasta and simmer for 5-10 minutes, however, if you are not going to eat this right away, keep the pasta seperate so the pasta does not soak up all the sauce.
Enjoy.