Pasta E Ceci - Pasta With Chickpeas
loof751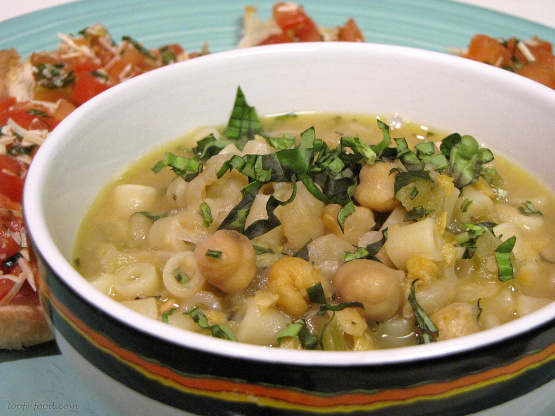 What makes good food? Peasant food. Food that's hearty, stick to your ribs, simple, and filling. This dish fits the bill to a "T" and will even feed the pickiest eaters I know (and trust me, I know some picky ones). It's a nice change from 'everything's tomatoes and black olives and pork' rut of the usual 'Italian' fare. (NB: You can actually use any small or broken up pasta...or substitute orzo, alphabet pasta, stars, whatever you have in your pantry. I don't think broken up 'long' pasta works very well though).

This is a delightful recipe! Definitely a dish that is greater than the sum of its parts. I made as directed, using chicken broth and mashing the chickpeas by hand. For me the fresh rosemary simmering in the broth is what makes this great - it's such a good flavor with the chickpeas and the fresh herb garnish. Thanks for sharing your recipe! Made for Fall PAC 2012
Add onion, celery, garlic, and rosemary in pan with olive oil and cook over gentle heat for 15-20 minutes, until the vegetables are very soft. Be careful not to caramelize them!
Drain chickpeas in cold water and add them to pan, then cover with chicken stock. Cook over gentle heat for 30 minutes.
Remove half the chickpeas and reserve in a bowl.
Use an immersion blender to puree the remaining soup (or jush mash the chick peas up really well with a potato masher for a more rustic presentation).
Return reserved chickpeas to pan, and add pasta. Cook gently until the chickpeas are tender and the pasta is cooked.
If the soup is a little too thick, add small amounts of hot water until it's the consistency you like.
Season with salt, pepper, vinegar, and fresh herbs. Serve with a good loaf of bread!
Feel free to exchange the type of stock - this is equally good with beef or chicken instead of vegetable!