Pasta E Ceci Eating With the Sopranos!
Redsie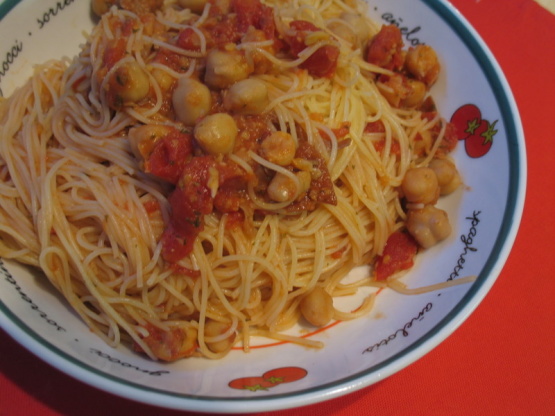 We love Pancetta and pasta, so when I see a recipe with some of my favorite ingredients, I jump. This is a great and easy dish from "Cooking with the Soprano's."

When I saw the chickpeas I knew I had to try this. I added a little fennel but made as directed otherwise. I like cooking the pasta in the sauce. It was well received by the kids. Thanks for sharing!
In large pot, cook pancetta in oil over medium heat until lightly browned, about 10 minutes.
Add garlic and crushed red pepper and cook until garlic is golden.
Add chickpeas, tomatoes and parsley, bring to a simmer, and cook 15 minutes.
Crush some of the chickpeas with the back of a spoon.
Add 4 cups water to pot and bring to a simmer. Add pasta and salt to taste. Cook, stirring frequently, until pasta is al dente, tender yet still firm to the bite.
Add more water if necessary to prevent pasta from sticking to bottom of pot.
The consistency should be just loose enough to require eating with a spoon.
Let cool slightly before serving. Serve with coarsely ground black pepper.