Pasta Dough - Bread Machine
Erin R.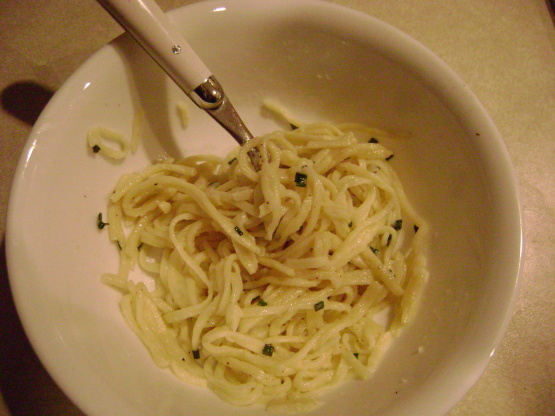 Quick easy and tasty. This is a simple pasta dough that I found, I mixed it in my bread machine even though recipe states use food processor.

Hooray! Homemade noodles! I got my husb a pasta machine for his birthday yesterday, so we decided to give it a whirl. This recipe looked the least intimidating, and after bumbling through and trying to figure out the texture, we ended up with a big bowl of absolutely FANTASTIC spaghetti. Tender, not at all starchy and holds its shape beautifully. It also really holds onto the sauce, and doesn't slip and flop off the fork like grocery store spaghetti. We couldn't stop congratulating ourselves. :) This is a great, easy recipe that even a couple of nimrods who have never even seen homemade pasta before can get right on the first try. Thanks a million.
I just add flour salt oil and eggs to bread machine turn it on to dough setting and let it do the work for 10 minutes then cut into 8 chunks and feed it through the pasta maker.
Cook in salted boiling water for 3 miutes and serve with your sauce of choice.
It too simple and the taste is great, very light, best of all most people have everything you need in the kitchen.