998171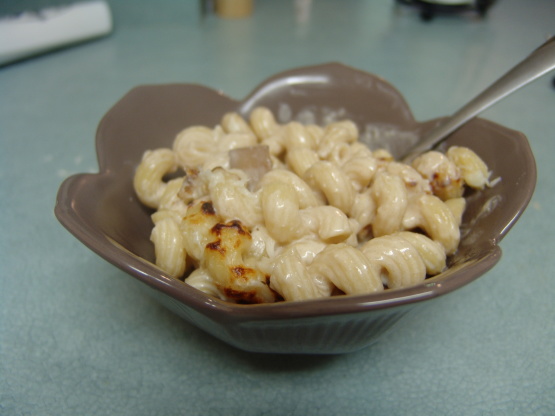 This is a WONDERFUL recipe that was created out of several of my other favorite italian recipes. Everytime I make it for someone new their response is generally something similar to, "wow, you should open an Italian restaraunt if you always cook like this!" Best part is, it's a fairly easy recipe! I put this over plain pasta, pasta with cheese, pasta and sliced chicken breast, broiled chicken with asparagus and mozzarella, breaded chicken...almost anything!

I LOVE pasta da vinci. Everytime I go to the Cheesecake Factory I get it. Unfortunately I made this recipe and followed every single step and got nothing close to what the Cheesecake factory serves. With the 8oz of cream cheese, this gave me a white sauce rather than an oil sauce. It tasted more of an alfredo sauce than what the Cheesecake Factory serves. . However the sauce I got turned out to be good.
Over med. heat, sautee sliced mushrooms in 2 T. olive oil for about 5 minutes.
Add broth and wine to mushrooms and bring to a slow boil. Let sauce boil for about 15 minutes or until it starts to reduce and the "alcohol smell" from the wine has cooked out.
*Optional: the longer you simmer this part of the sauce, the richer and more flavorful it will become.
*This is the point you would want to start boiling your pasta.
Lower heat to medium again and once the sauce stops boiling, add the cream cheese and butter, whisking it together as it melts.
Whisk in remaining ingredients and stir until smooth and creamy.
Pour over your favorite pasta and/or chicken breast and serve. It is SINFUL topped with Mozzarella and broiled for just a few minutes to brown the cheese.