Pasta Cream Sauce With Peas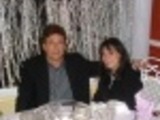 Another basic in the Italian repertoire, this is very much like an Alfredo sauce and makes enough for one pound of pasta. It is also super-fast, ready in about 10 minutes. If you don't like peas, you can simply omit them, and you will essentially have an Alfredo sauce! Clearly, this recipe is not for the diet-conscious.
Directions
In a large saucepan, over medium-low heat, warm the cream, milk, salt, and pepper. Add the cooked pasta, Parmesan, and peas and stir until the cheese melts and the sauce thickens, 2-3 minutes. Serve.
Most Helpful
This recipe is so easy to do. Me and DH thought that something was missing. DH said maybe more parmesan would be great. But my son loved this recipe. Thanks Jackie :) Made for Newest Zaar tag