Pasta & Chinese Udong Noodles in Tomato Sauce & Sardines
gilbz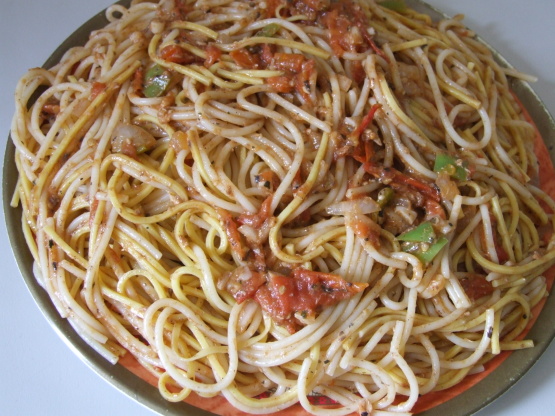 Most Filipino Dishes have always been a fusion of various cuisines around the world. Hence, I've decided to experiment and make a fusion out of the Italian Pasta (spaghetti) and the Chinese noodle called Udong (w/c Pinoys often mixed with sardines for texture).
Boil Pasta in 5 cups of water with 1 tablespoon salt and 1 tablespoon olive oil for 12 minutes. Put in Udong Noodles after boiling pasta for 7 minutes. After 12 minutes, pour pasta/noodles into strainer and pour ice cold water on it. set aside. (Make sure you put the pasta when the water is already boiling, that's when the 12 minutes boiling starts).
For the sauce -- put 3-4 tablespoons olive oil in a non-stick pan and saute garlic and onions. Then add tomatoes until soft pulp remains.
Add Beef Bouillon Cube and Sardines. Then add spices: oregano, sage, ground black pepper & bell pepper.
whisk until ingredients are well mixed.
Reduce heat and simmer for 5 minutes.
Serve with the Spaghetti-Udong Noodles.