Pasta, Chicken, Tomato Creation
Sageca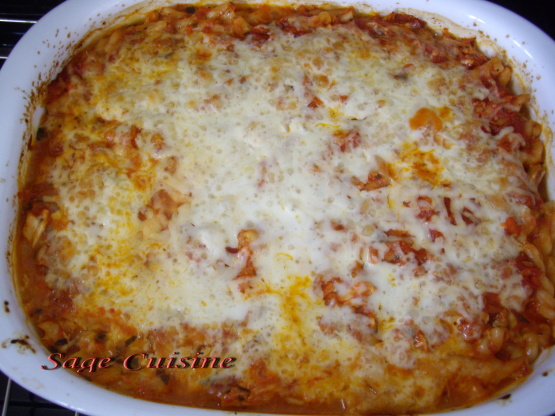 You will be delighted with this recipe; make it for 4 or for a crowd.|if you love lasagna, try this easy, healthy version.
Fry onion and garlic in a little oil for approx 3 - 4 mins.
Add the tomato puree and cook for 2 minutes.
Add the chopped tomatoes, basil and season with some black pepper and the sugar.
Cover and simmer for 15 minutes.
While your tomato sauce is cooking, cook your pasta.
Combine cooked pasta, chicken and tomato sauce; set aside.
Mix together cottage cheese, egg and Parmesan cheese.
Spray casserole with Pam. Spoon in 1/2 of your chicken pasta. Spread with cottage cheese mixture. Add 1/2cup shredded cheese. Spoon on remaining pasta mixture. Sprinkle on 1 cup shredded cheese.
Bake in a preheated 350* oven for 45 minutes.