Redsie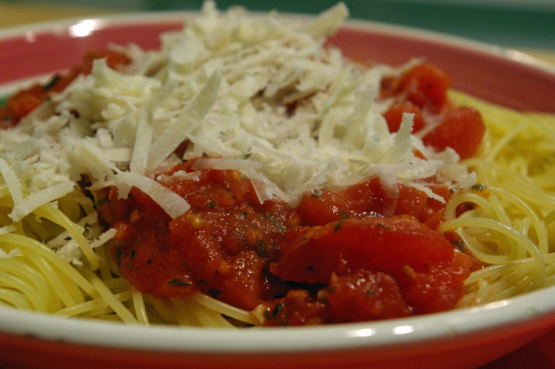 Pasta in 'angry' sauce - yummy! My favorite type of pasta sauce. Can easily adjust spices to your liking.

Delicious! I skipped the canned tomatoes since I actually hate tomatoes (haha, love pasta sauce but I hate chunks of them!). This recipe was, believe it or not, the first time I made pasta sauce at home instead of buying it in a jar, and I will definitely be doing it this way from now on! Very flavorful and versatile. Thank you for posting!
Bring a large pot of salted water to a boil.Cook pasta in boiling water until just al dente.
Meanwhile, heat olive oil in a large skillet. Add garlic and red pepper flakes; cook until fragrant. Add remaining ingredients except pasta; simmer about 10 minutes.
Drain pasta;add to sauce and cook, stirring, about 2 minutes. Season with salt and serve.