Pasta and White Beans in Light Tomato Sauce
Ms B.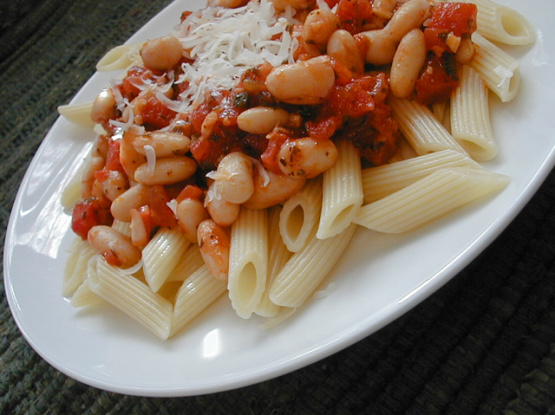 Good both summer and winter. Quick to make too. Half an hour before dinnertime? This will do the trick.

This is a great health alternative to ground beef. I made this dish for lunch. I sauted onion with garlic cloves, and used crushed tomatoes in the sause. This recipe was excellent tasting for left over ingredient in my pantry. You really can't taste the beans. They blend well.
Heat oil in heavy, large skillet over medium heat.
Add garlic and saute until golden, about 2 minutes.
Stir in tomatoes and cook 5 minutes.
Add parsley, basil and oregano and simmer, stirring occasionally for 15 minutes.
Add beans and cook until heated through, about 5 minutes.
Season with salt and pepper.
Place freshly cooked pasta in bowl.
Pour sauce over and toss thoroughly.
Also nice with grated Parmesan or Pecorino cheese.