Pasta and Tomato Casserole

Got this from my Canadian parenting board. A simple throw together meal.
Directions
Preheat oven to 350°F.
Cook pasta according to package directions.
Spread 1/2 of pasta on the bottom of a 2L casserole dish, top with 1/2 of cheese.
Mix seasonings into tomatoes and pour over pasta.
Top with remaining pasta and cheese.
Cover with foil and bake for 30 minutes.
Reviews
Most Helpful
My family enjoyed this simple-to-make casserole, the only changes I made was using a minced jalapeno instead of the crushed chile and sprinkling the top with some garlic powder (after realizing I forgot the garlic!j). Next time I think I'll add a second can of tomatoes or some frozen veggies. Very good. Thanks for sharing!
Very good, and easy to make. the only thing is that i accidentally added twice as much crushed chiiles, but I think the extra spice gave it a nice kick, and i did add two cups of cheese instead of 1 1/2 cups because I used the pre-shredded mexican four-cheese blend. Thanks for the recipe Sam#3!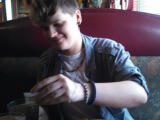 This is good stuff! I love the kick that the crushed red pepper gives it. I made just as directed (okay maybe I added just a teensy bit more cheese) and we loved it!