Pasta and Pine Nut Salad - With Gluten-Free Option
Tisme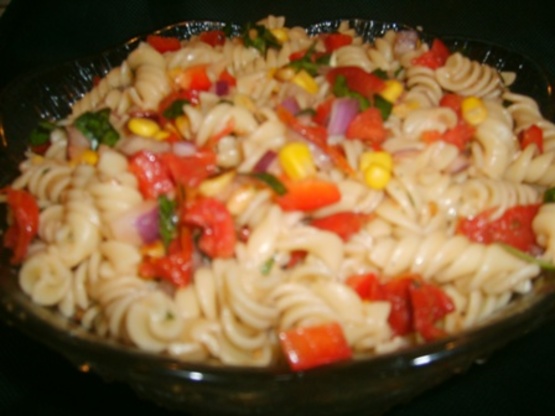 A simple salad to prepare. A great side dish. you can make it with regular pasta or gluten-free pastaUse gluten-free pasta to make this a gluten-free salad. If using GF pasta take care it is not soggy- gluten-freepasta tends to go from al-dente to super soggy in a matter of a minute. Note- to toast pine nuts add them to a non-stick fry-pan and 'toast' over heat for a few minutes (you'll know when they are done)

Top Review by Tisme
o.k... This recipe is so easy so fantastic and so versatile, you can do so much with it! I used normal pasta, not gluten free,but followed everything else written exactly, and it was perfect. a great light, easy and tasty salad for summer !! Remember that verse when you were little?????? .......This little piggy went to market?? Well that verse reminds me of this recipe............ First little piggy wanted salmon on it (DS)!!! Second little piggy wanted Tuna on it (DH)!!!! Third little piggy wanted it heated with parmesan cheese on it (DD)!!!! ............ and the last little piggy wanted it a la natural ... (that is me) !!!!! Rave reviews from all little piggies **Jubes** !!!!!! Great recipe a BIG 5 here !!!!!!!
Combine salad ingredients, mix well.
In another bowl, whisk together all of the dressing ingredients.
Toss the dressing through the salad and serve.