vrvrvr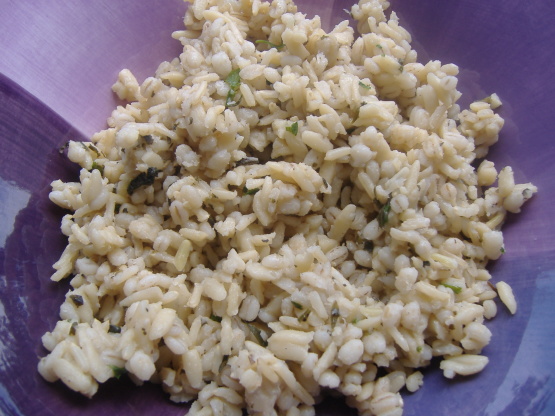 From "What's for Dinner?" by Maryana Vollstedt. A combination of grains and pasta with subtle herb seasoning, slightly chewy. I was happy to find that my whole family loved this...even the 5 year old! Hooray! It's delicious.
In large saucepan over medium heat, melt butter. Add onion and garlic and saute until soft, about 5 minutes.
Add rice, barley and orzo and stir until grains and pasta are coated.
Add chicken broth, basil, thyme, salt and pepper. Bring to a boil, then reduce heat.
Cover and simmer until liquid is absorbed, about 45 to 50 minutes.
Add parsley and fluff with a fork. Serve immediately.