JustJanS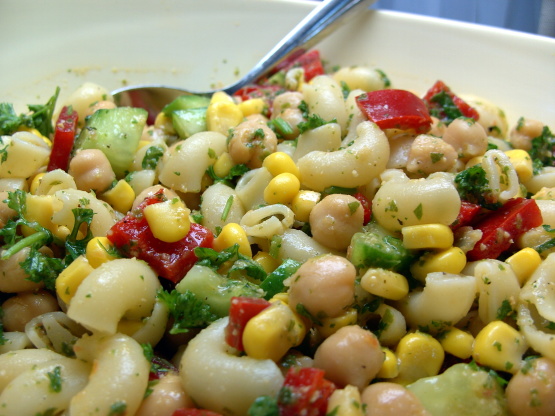 From Australian BH&G Diabetic Living and their lunchbox special. NOTE - this dish can be made the night before and kept in an airtight container ready to go.

This was a good mix of pantry staples and fresh salad veg that we always have on hand. It makes a huge mixture and the tablespoon of (my home made basil and tomato) pesto wasn't enough to flavour the dish in my opinion. A big squeeze of lemon juice seemed to lift it amazingly and I recommend it if you try making this.
Cook the pasta in a small saucepan of boiling water following the packet directions and then drain and rinse under cold water and then drain well and transfer to an airtight container.
Add chickpeas, corn, cucumber, capsicum, pesto and parsley to the pasta and season with pepper and toss the combine.