Linky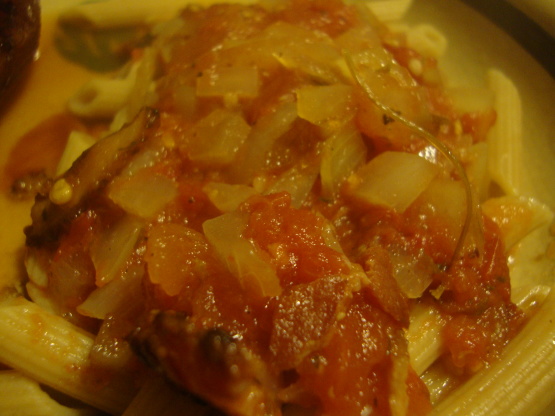 Top Review by Linky
I made this for my friend who is recuperating from knee surgery - she rated it 5 stars. I thought it was a little too "soupy" and I wish I'd been able to use the correct ingredients (I subbed bacon for pancetta and dried herbs for fresh). My DH thought it should be 4.5 stars. I will make this again and re-rate when I find authentic pancetta!
And now 7 months later, I had all the correct ingredients and it was absolutely wonderful!!
In a large skillet, brown pancetta over medium heat; remove from pan and drain on paper towels; wipe out the pan.
To the pan, add olive oil, garlic, and crushed red pepper; heat until the garlic speaks.
Add in the onion; cook 5 minutes to sweeten the onion.
Add in the tomatoes and herbs; stir in reserved pancetta.
Heat through and decrease heat to low; simmer until the pasta is cooked, drained and ready to serve.
Combine the sauce and pasta in a hot pot and dump onto a serving platter.