MsPia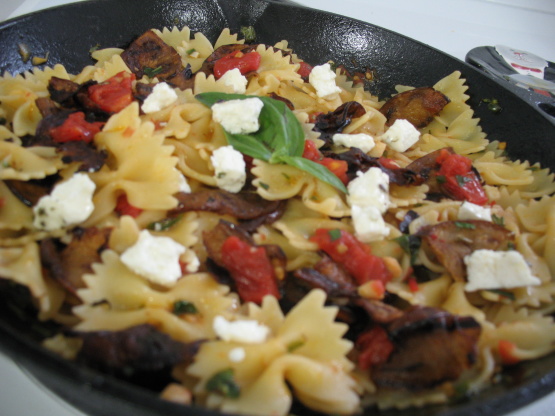 I was in Italy this summer and I came back with "several" Italian cooking magazines. This recipe is from "Sale & Pepe"(salt and pepper). It was very simple and fast. I really liked it. I did use SUPER FRESH organic tomatoes and eggplant and I firmly believe that makes a huge difference.

I was able to use very fresh eggplant in this one so I was able to get away without the salt treatment in Step 1. My sister's tomato plants also produced tomatoes quite late this year, so I was also able to use good tomatoes despite the time of year. Rather than fry in 2 cups of oil, I was able to saute the eggplants by coating the pan with spray, then spraying more spray on top (I used Pam olive-oil spray. That way I was able to cut way down on the fat content. With the reduced amount of oil, it made for a nice, light pasta dish, and I loved the goat cheese crumbled in it. Quite a treat!
Layer eggplant on a colander with some coarse salt and put a plate on top with some weight to get ride of the eggplant bitterness. Let it sit for about 1 hour.
Wash tomatoes, make a small cut on the bottom and throw them in boiling water for an instant. Then peel them, cut them in fourth, get rid of the seed and juice and chopped them.
In a pan, heat the olive oil, add the garlic and sauté briefly. Then add tomatoes, basil, wine salt and pepper and cook for 15 minutes, stirring occasionally.
Rinse the eggplant and get rid of all the salt. Dry with a paper towel. Heat oil in a frying pan and fry eggplant in batches until golden. Drain on paper towels.
Meanwhile, boil water with some salt to cook pasta al dente, following manufacture's instructions.
Drain pasta and mix with sauce. Pour on a big serving dish. Sprinkle fry eggplant on top and crumble goat cheese. EAT!
Note: The original recipe calls for "Ricotta Salata" instead of goat cheese, that it is not the same as the regular ricotta we can get a the store; it is a fabulous cheese from Sicily, from the province of Messina. It is not impossible to find in the US, but it is quite pricey.