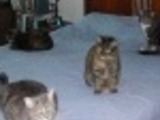 This is purported to be "the best quick meal" we've ever tasted, as per Yvonne Ruperti in Cook's Illustrated. There are two other recipes for cacio e pepe (pasta with Pecorino Romano cheese and black pepper) on RecipeZaar, but this one adds at least one more ingredient to keep the cheese from turning into a big clump. Add cream. This recipe was reprinted as "recipe of the week" in The Week magazine.
Directions
Place finely grated Pecorino Romano in medium bowl. Set colander inside large bowl.
Bring 2 courts water to boil in large Dutch oven. Add pasta and salt; cook, stirring frequently, until al dente (or according to package directions). Drain pasta into colander, reserving cooking water. Pour 1 1/2 cups cooking water into liquid measuring cup and discard remainder. Return pasta to now-empty bowl.
Slowly whisk 1 cup of reserved pasta water into finely grated Pecorino until smooth. Whisk in cream, oil, and black pepper. Gradually pour mixture over pasta, tossing to coat. Let pasta rest 1 to 2 minutes, tossing frequently, adjusting consistency with remaining pasta water. Serve, passing coarsely grated Pecorino separately.