karen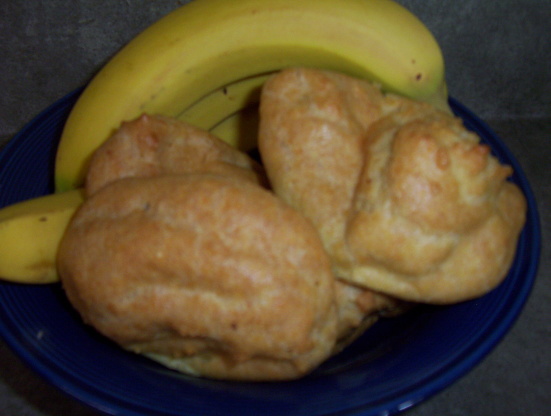 These rolls are great for either sandwiches or as a fluffy popover-like roll with dinner My mom would make a couple of batches of these every Passover so we could have sandwiches for lunch and rolls with dinner.

I joined this site just so I could tell you how wonderful these rolls are. I just found out that I'm sensitive to yeast, of all things; I haven't found anything remotely close to a roll that I can make a sandwich on that actually tastes good (and I've tried several). I once again crossed my fingers and made the rolls tonight. Your Passover recipe saved this Catholic girl! They're awesome - thank you, thank you, thank you!
Preheat oven to 425 degrees.
In a 2 quart pot, bring water, oil and salt to a boil.
Remove from heat and add matzo meal and stir until it forms a ball.
Add eggs, one at a time, beating until each egg is incorporated before adding another.
Drop in oval shape on greased cookie sheet for sandwich style rolls (makes 10 rolls) or fill a greased muffin tin (makes 12 muffins).
Bake for 30 minutes.