Pneuma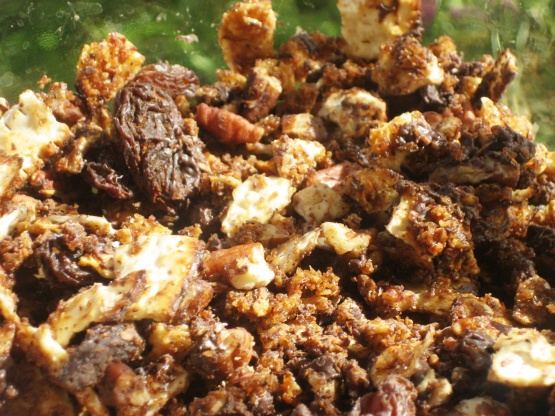 This is great for breakfast or as a snack. The recipe is really quite easy. The recipe is found in the 'Can't Believe It's Kosher' cookbook.

This is a fantastic recipe. Every year I struggle to find a breakfast cereal and/or snack for the family. It is a winner. Very addictive. I have to make double batches to keep up with the family.
Preheat oven to 325 degrees F.
Combine matzo farfel, coconut and nuts in a bowl and spread mixture on a lightly greased jellyroll pan.
Bake for 15-20 minutes, tossing several times until lightly toasted.
Meanwhile, in 2-qt saucepan combine margarine, sugar, honey and salt.
Bring to a simmer for a few minutes, stirring constantly.
Remove from heat and add lightly toasted farfel-coconut-nut mixture to syrup mixture.
Mix well, coating evenly and then place back on jellyroll pan.
Increase oven to 350F and toast mixture for 20-25 minutes until it is golden brown, stirring several times to avoid buring.
Transfer granola to a large mixing bowl and stir in raisins, dates and cinnamon with a spatula, breaking up any large clumps.
Cool thoroughly and add chocolate chips.
Store in an airtight container.