Passover Cottage Cheese Cake
lether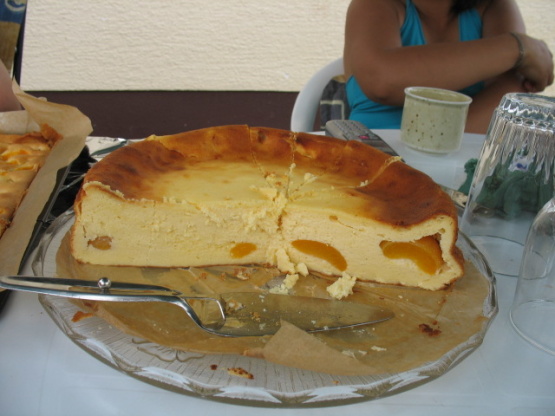 In the early 1990's Gourmet Magazine did a series of Passover cakes which I now cannot find on epicurious.com. I had copied some of them and am posting them here. (Preparation and baking time shown does not include cooling and refrigeration time.)

No idea why everybody gets so excited to see a cheesecake at a Pesach meal, but there it is. There's really no reason why not! This cheesecake is so luscious, I'd use it again for Shavuos. Not too rich, not too sweet, but just enough of all the right stuff. I made a fresh-strawberry sauce (just simmer strawberries on low with some sugar - don't add water - and when the strawberries are thoroughly mushy, stir in a bit of cornstarch and lemon juice to give the sauce a glossy thickness). I skipped the orange rind and vanilla - don't buy vanilla for Pesach anyway. Just the cheese flavour, plus strawberry on top, was simple & delicious - thanks!!!
Set oven rack at middle of oven; preheat oven to 325 degrees F.
Prepare the crust:.
In a small bowl with an electric mixer, beat the butter until smooth. Add matzo meal, sugar and cinnamon; beat until it resembles coarse meal. Add wine, blend just until it holds together.
Press onto bottom (and partly up the sides) of an ungreased 8 inch springform pan.
Prepare the filling:.
In a large bowl with an electric mixer, beat the cottage cheese and cream cheese until smooth.
Add the egg yolks one at a time, beating well after each addition.
Beat in sugar. Add sour cream, potato starch, rind and vanilla; beat until combined well.
In a separate bowl with clean beaters, beat egg whites until they just hold stiff peaks.
Stir ½ cup of the beaten egg whites into the cheese mixture. Fold in remaining egg whites gently but thoroughly.
Pour on top of prepared crust.
Bake for 1 hour. Turn off oven; let cake cool in oven with door slightly open.
Chill in the pan at least 4 hours or overnight.
Run a thin knife around edge of pan; remove side of pan.