Passover Chocolate Matzah Candy
dojemi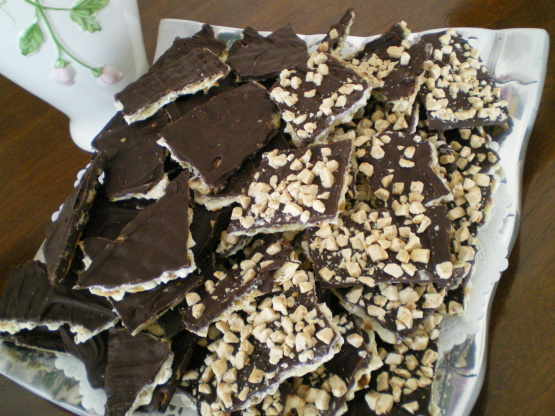 This candy is positively addictive. It will disappear right before your eyes. The photos of the candy with the nuts were made with white sugar. The photos of the candy with the sprinkles were made with brown sugar which tastes a bit caramelized and (I think) a bit sweeter. Both delicious.

Really a very good recipe. I only needed to use three matzah boards rather than the six called for in the recipe in order to fully line my cookie sheet.
Grease both sides of aluminum foil and set in the bottom of a cookie sheet.
Arrange the matzah on top of the foil breaking them, if necessary, to fit the pan completely.
Melt the butter and add the sugar and cook for 3 minutes.
Pour mixture over the matzah and spread evenly to cover them all.
Put into a 350 degree oven for 5 minutes.
Remove from oven and sprinkle the chocolate chips over the top.
It will take approximately 3-5 minutes for the chocolate to melt.
When melted spread over the top of the matzah.
If desired, sprinkle with chopped nuts.
Refrigerate till firm.
Break into pieces.