Passionfruit Bavarian Cream Dessert
diner524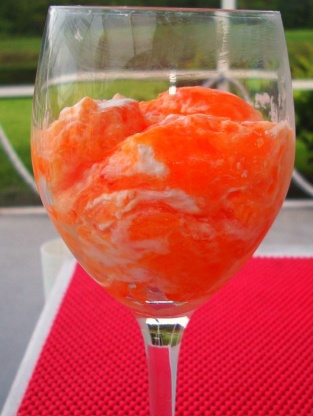 This is a dessert found when searching for South African recipes. Typical in Zimbabwe but commonly found in other South Africa regions. Passion-fruit juice may be obtained in gourmet food and specialty shops. If not available, use apricot nectar. Cook time does not include chilling time.
I had never had a passion fruit or juice, but found some that was mixed with white grape use, and got it as it was the only one I could find. I will say that it is a very different fruit flavor, wasn't sure if I would like this dessert!! But mixed with the orange jello and then the whipped cream folded in makes for a very light and fruity dessert!!! Made for ZWT4.
In a large bowl dissolve orange gelatin in boiling water. Add passionfruit juice or nectar and stir to combine.
Chill until mixture begins to set then stir it well.
Whip the cream until stiff and then fold into the partially set gelatine.
Spoon lightly into dessert dishes or a wine or martini glass. Garnish if desired.
Refrigerate until ready to serve.