From Cooking light Can use store bought frozen fruit Cook time is freeze time
Directions
Place the mango cubes and pineapple cubes into freezer, and freeze until firm (about 1 hour). Remove from freezer; let stand 10 minutes. Combine mango, juice, and nectar in a blender, and process until smooth. With blender on, add pineapple; process until smooth. Serve immediately.
Reviews
Most Helpful
Very good! This is so delicious. I love the combination of fruits. I will make again. Made for Gimme 5 tag.
Yummy! I did not freeze the fruit as long as suggested, as I wanted more of a "shake" than a "smoothie". However you prefer it, the taste is divine! It makes a great start to your day. Made for Everyday's a Holiday Tag Game.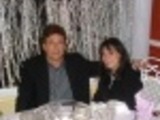 Very refreshing! I used canned mangoes instead of fresh ones. Made for Photo Tag