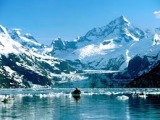 A yummy twist on your average pina colada from Eating Well magazine. The run is optional. ;-)
Directions
Combine ice, passion fruit juice, cream of coconut and rum, if using, in a blender and blend until smooth.
Most Helpful
This was delicious! I used fresh passion fruit pulp from the vine in my backyard. I wish I'd thought of straining out the seeds first, but it was still very much enjoyed. Thank you! Made for CQ '16.

I selected this recipe because I really like passion fruit juice, and this is (now) at the top of my list of favorite passion fruit recipes. It's so refreshing and tasty, and I'm really glad I came across this recipe. I know I'll make it again and again. Yum!

Delicious LIG really delicious. I really enjoyed this flavorful and silky drink. The ratio of juice to rum is perfect. Thanks for sharing this great quick and easy to make cocktail. Which I will be enjoying again and again this summer. Made FYC Tag Game 2015.