Passatelli Dei Nonni (Bread and Parmesan Cheese Soup)
awalde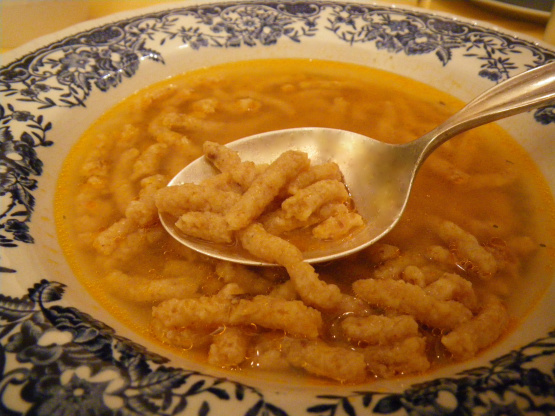 Try this soup! Passatelli are a classic specialty from Emila-Romagna (Italy) the region where my father comes from. My children love this soup!

Top Review by Debbwl
Wow this is some soup! Rich beef broth sounding tender little cheese noodles. Fallowed this recipe to the tee using the fallowing conversions 100 grams = 3.50 ounces and 1 1/2 liters = 6 cups, recipe also calls for using a mill or ricer neither of which I have but did read some were that the large holes on a flat cheese grater would give the same results and it did work to produce worm like noodles which is what is described in the directions. I will definitely be making this again. Thanks so much for the post.
100

g parmesan cheese, grated

100

g breadcrumbs, small

3

eggs (small ones or 2 big ones)
1⁄2 teaspoon nutmeg

1

lemon, zest only
1 1⁄2 liters broth, if possible homemade (beef or hen broth with celery, carrots and leek)
Place the bread crumbs, Parmesan, nutmeg and the lemon zest in a large mixing bowl. Add the eggs and carefully mix together with your hands until it forms a soft dough-like consistency.
The mixture should be like a wet dough, barely holding together.
If it seems too stiff, add 1 tablespoon water or stock. If it's too soft, add more breadcrumbs and Parmesan.
Allow the dough to rest for approximately 20 minutes in a cool place.
Once ready, put the dough in a food mill or ricer. Press to create short noodles (like little worms).
Bring the meat stock to a boil and add the pasta. Once the passatelli have risen to the surface, they are ready to eat.
Serve immediately.