Pass That Sweet Potato Pie
Prep 15 mins
Cook 40 mins
Just a slightly different twist to sweet potato pie. Created for RSC 8. Hope you enjoy this dish.
Directions
Preheat Oven to 450 degrees.
Pie Crust:.
In a medium bowl stir flour, salt and coconut together.
Use a pastry blender to cut butter into pea size pieces.
Slowly add milk and form dough into a ball.
Gently roll dough on lightly floured surface into a 12" circle, now transfer to a deep pie plate, trim and edge, put aside.
Do not prick pastry.
If you prefer, you could use an unbaked pre-made 9-inch deep dish pie shell.
Pie Filling:.
Beat eggs with brown & vanilla sugars, salt and spices mixing well.
Next gently add sweet potato puree, whipping cream, sour cream and rum.
Pour into unbaked pie shell and bake at 450 degrees for 10 minutes, turn the heat down to 400 degrees and continue baking for 30 minutes longer or until knife comes out clean.
If necessary cover crust edges with tinfoil to prevent burning.
Reviews
Most Helpful
I had used my mom's sweet potato recipe for years claiming it to be the best. I've, now, concluded this recipe near perfection. Oops, did I just reveal my disloyalty to the entire world wide web? Made for A-NZ #47.

This is fantastic good. I adapted the filling for a diabetic and it's a very adaptable and forgiving recipe. I made just the filling and in a 1/2 pie amount using 1/8 cup of Splenda Brown Sugar and regular Splenda for the white sugar, 1/4 cup of EggBeaters. I used fat free evaporated milk for the whipping cream and low fat sour cream with 1/2 to 3/4 tsp of rum extract (I didn't measure that exactly). I baked it it @ 350 for about 45 mins and YUMMM. You have a wonderful creation BK. I wanted to take pix for you but my neighbors were here and as they are both diabetic also ....well, I had to share *sigh*. I'll make this again and be sure to take a pic or 3. I might add that the neighbors left with my adapted recipe.

Beautiful and wonderful holiday pie! My guests couldn't be happier! This is going into my holiday list of must-make pies. Thanks, Baby Kato! Made for Photo Tag.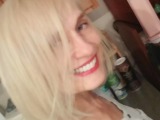 Holiday Central >