Pa's Old-Fashioned Johnny Cake / Cornbread
Debber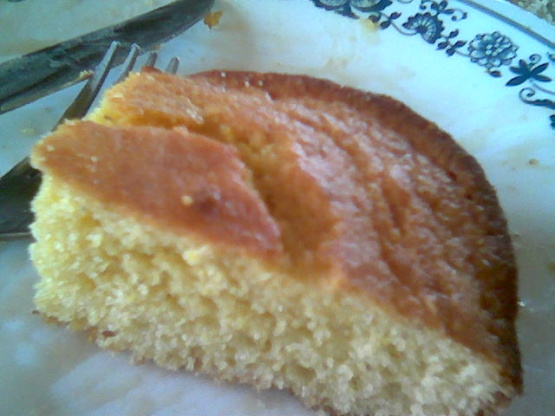 The plain version was a staple during my dad's Depression-years childhood; but we rarely had it when I was growing up. My children expect this at least once a month as a regular feature on our Saturday morning breakfast menu OR when we have breakfast-for-supper. Prepare the optional sausage and hard-boiled eggs ahead of time, and it goes together quicker-n-anything!

Top Review by karma
This will be my new cornbread recipe. I made it as written without any of the optional extras, preheated the cast iron skillet in the oven, and poured it in the hot skillet. 20 odd minutes later I pulled out some of the moistest cornbread, almost cake-like, with a wonderful crunchy outer crust. Can't wait to try it again with the added goodies. Hats off to Pa.
Preheat oven to 425; grease a 13x9 pan.
Add dry ingredients to a large mixing bowl, stir through, make a well in the center.
In another bowl, add eggs, milk, and oil all at once; blend well.
Add wet to dry ingredients, stir until moistened (don't over-mix or you'll be sorry!).
Fold in optional ingredients. Sausage should be in crumbles or bite-size pieces.
Pour into prepared pan; rap pan on counter-top several times to bounce out the air-bubbles.
Bake for 25-30 minutes--top will be golden-brown.
Serve with butter and maple syrup.
OPTION #1: Add 1 cup grated sharp Cheddar cheese.
OPTION #2: Add 1/2 - 1 cup of sweet corn (plain kernels); adds a neat "chewy" texture to the 'cake.'
OPTION #3: Add 6 hard-boiled, chopped eggs.
OPTION #4: Add 1 pound fried & drained pork sausage (crumbled) or links (bite-size).
TIME-SAVING HINT: Gather a handful of 1-quart zipper bags, fill with DRY ingredients, and store in your cupboard. At meal-time, add wet ingredients as described.