diner524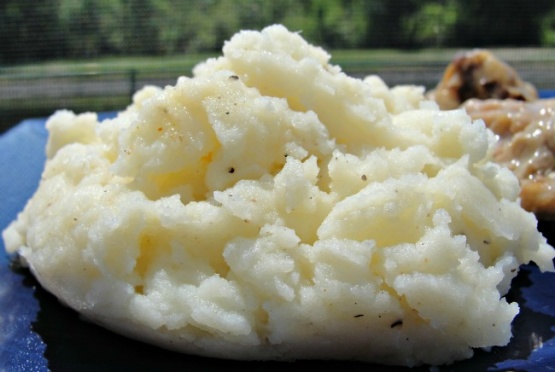 This is a recipe my family has fairly frequently at large family gatherings. It came from a friend of my grandmother. Please note that we also typically halve this recipe. Also note, prep time does not include time for boiling potatoes and mashing them.
What a tasty mashed tater recipe!!! I made this as written, although scaled back to serve 2. I used leftover potatoes that had been made with butter and milk, so I just added the seasonings and cream cheese. Really loved the flavor of these potatoes. Great recipe to make when you are making something that you can't really make gravy from pan drippings. Thanks for sharing the recipe, I plan to use it as a stuffing when I next make pierogies!! Made for 2013 Spring PAC event.
Combine all ingredients in a baking dish. I typically use a casserole dish of sufficient size to hold all the ingredients.
Bake uncovered for 30 minutes at 350.
NOTE: My family generally puts shredded cheese on top of the potatoes before baking so that there is a nice layer of melted cheese on top of the potatoes.
NOTE: Serving size/amount is a guess. I know that a halved recipe more than sufficiently feeds 4 people with quite a few leftovers.