MsSally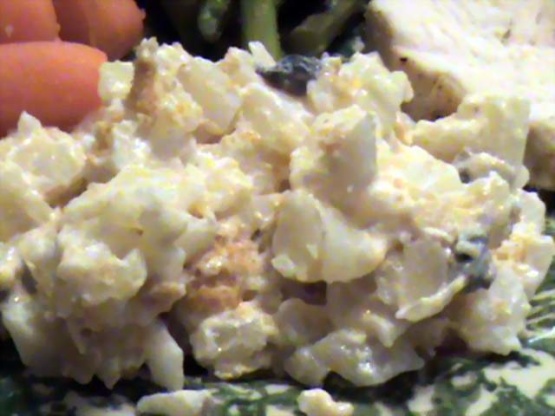 I got this recipe from an old friend, who got it off a bag of frozen hash browns. My family raved about it the first time I made it, and there are never any leftovers. It's actually not too fattening if you stick to only 1-2 servings...which is hard to do!

This is a bit of heaven! I reminds me of a baked potato, with lots of sour cream and cheese. YUM... The only thing I did differnt in this recipe is I used Cream of Chicken soup rather than the Mushroom soup. I added a little black pepper and a small amount of salt as the recipe didn't call for any, and I thought that odd. Thanks so much for a great recipe! I'll be keeping this recipe within easy reach for the next potluck
Spray 9 x 11 baking dish with cooking spray.
Preheat oven to 350 degrees.
Mix all ingredients except bread crumbs in a very large bowl.
Pour into baking dish and top with bread crumbs, crackers or cornflakes.
Bake for one hour.