CoffeeB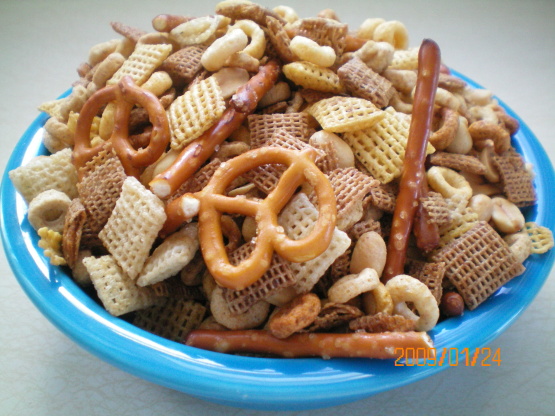 My Mom made this every Christmas to give out as gifts and for snaking on.

This is my new favorite snack Lynn. I"m so glad I discovered this. Reminds me somewhat of Chexmix, but more of a deluxe version. I love the added ingredient of liquid smoke as I"ve never added that to any of my other snack mix combo's. It really shines thru nicly too. This will be made often as I am a real popcorn/pretzel freak and this is a nice variation for myself. Not to mention the MEN of the family. Thanks loads Lynn. Made for 123Hits~
1

(10 ounce) bag pretzels, sticks

1

(12 7/8 ounce) box Rice Chex

1

(12 7/8 ounce) box Wheat Chex

1

(15 ounce) box Cheerios toasted oat cereal

1

(10 ounce) can cashews

1

(11 1/2 ounce) can mixed nuts

1

cup canola oil

1

teaspoon Tabasco sauce

1

tablespoon liquid smoke

1

tablespoon Worcestershire sauce

1

tablespoon garlic salt

1

tablespoon celery salt
Melt butter in pan and add oil and all the other spices.
Put the first 6 ingredients in a very large pan or bowl.( large enough to add liquid and mix up gently).
Pour liquid mix over cereal mix.
Bake AT 200°F for 2 hours.