Stacky5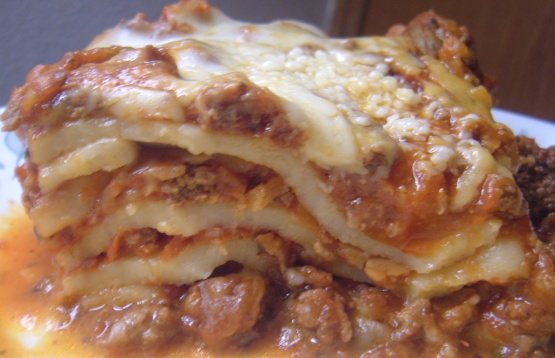 I normally hate lasagna, and Im all about simple foods so when I found this in my campbells cookbook I had to share it with you all! It has the unusual ingredient of cream of mushroom soup but it really works. Made a lasagna lover out of me:)

I made this for lunch today, but I subbed seasoned ground pork sausage for the ground beef, which the pork sausage already had onion, garlic, sage, salt, and pepper in it, plus I also added about 1/3 cup of diced onion. While mixing up the meat, soup, and water, I could see the meat/sauce was quite runny, so I added a (6-ounce) can of tomato paste, and let it simmer while I mixed up the remaining dish. While I was preparing this dish, I noticed I had to break a bit off the outer end pieces of the lasagna noodles, so they would fit inside the baking dish. I also found that I should of added 3 more lasagna noodles, as there was a lot of sauce. Since my oven gets quite hot, I baked this at 375 degrees for 50 minutes, but next time I will bake it for 45 minutes, and after adding the shredded mozzarella, I'll only bake this for about 5 minutes, as the cheese melted quickly, and the lasagna was hot and bubbly by then. After eating this, I really didn't care for it. I thought there was just too much sauce and not enough pasta, but after I had reheated it for dinner, I enjoyed it alot more. The lasagna seemed a lot more flavorable. If I decide to make this again, I'm going to add 3 more lasagna noodles to the dish, plus I'm still going to make it with the seasoned ground pork sausage, as I think it gives the lasagna a lot more flavor. If I had made this lasagna as written, I probably would of only given this recipe 1 STAR, but with the few modifications I made to the recipe, my husband said to give this recipe 4 STARS. Thank you Ang for sharing this recipe!
1

lb ground beef

1

(10 3/4 ounce) can condensed tomato soup

1

teaspoon italian seasoning

1

cup water

1

(10 3/4 ounce) can cream of mushroom soup

2

cups mozzarella cheese, shredded
1⁄4 cup milk

6

no-boil lasagna noodles
In 10-inch skillet over medium-high heat, cook beef until browned, stirring to separate meat.
Drain.
Add tomato soup and water and italian seasoning.
Heat through, stirring occasionally.
Remove from heat.
In small bowl, combine mushroom soup, 1/2 cup cheese and milk.
In 2-qt oblong baking dish, spoon in half the meat mixture.
Top with 3 lasagna noodles.
Spoon mushroom soup mixture over lasagna noodles.
Top with remaining 3 lasagna noodles and remaining meat mixture.
Cover tightly with foil.
Bake at 400 degrees for 40 minutes.
Uncover; sprinkle remaining 1 1/2 cups cheese over meat mixture.
Bake 10 minutes more or until hot and bubbling.
Let stand 10 minutes before serving.