Party Brown Rice With Pistachios and Cranberries
Rita1652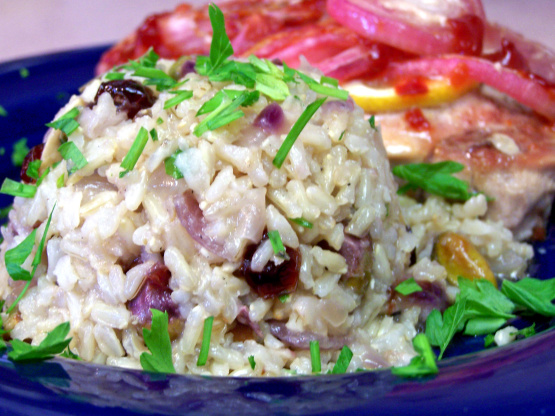 Flavorful,Robust and Good for You! Vegans can use water or Vegetable Stock Vegetable Stock instead of chicken broth. This recipe is for a crowd s but can be easily cut in half.

this was a really nice side dish to chicken. i would have browned the rice in the onions, etc, then added the broth etc, but i followed your directions. i browned my onions in macadamia nut oil, cut the recipe in half but cooking time was fine-- you mention adding the cardamom twice- so i added some with the stock and rice, which i made in the rice steamer, and added 1/2 tsp with the garlic and ginger onion mix. pistachios were a great touch.
Place the rice in a large skillet and toast over a high flame for 1 minute.
Add the 6 cups chicken stock and cardamom and bring to rolling boil.
Lower heat to simmer cover and cook for 30 to 45 minutes, or until the rice is tender.
Set aside.
Heat the oil in a large skillet over a high flame.
Add the onions and brown sugar and saute for 2 minutes.
Add the ginger and saute for 1 minute, then add the garlic and cranberries and cook for another 2 to 4 minutes, or until heated through.
Add the rice, pistachio nuts, cardamom, and salt, to taste.
Cook for 30 seconds, stirring constantly.
Remove from the heat and stir in parsley and scallions.
Serve immediately.