Rita1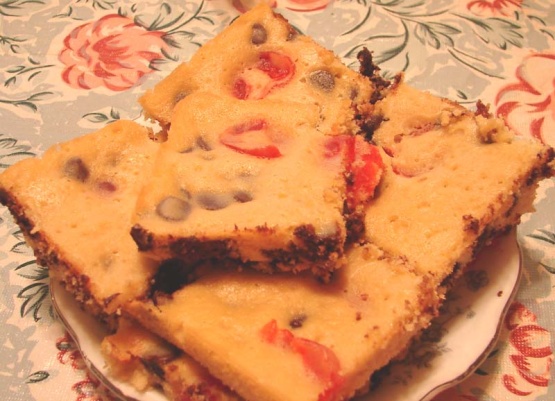 My niece gave me this recipe. I have no idea as to where it originated. I made these bars today for the first time and took them to a family gathering and brought home an empty pan. The bars are chocked full of chocolate chips and maraschino cherries and are very moist. I would suggest using 1/2 of the chips the recipe calls for and maybe adding more cherries. They are Mmm Mmm good! I forgot to ice my party bars but they were plenty rich without the frosting.

I made these as my Christmas gifts this year and they were wonderful! I doubled the recipe, I used butter rather than shortening and doubled the choc chips (half white and half milk). I got rave reviews and will make this again. It looked wonderfully festive on green plates with the red cherries and choc chips. Thanks for posting!
Sift flour, baking powder and salt.
Cream shortening and sugars.
Beat in eggs, add vanilla and beat until fluffy.
Add milk and dry ingredients alternately.
Stir in cherries and chocolate chips.
Pour into greased jelly roll pan.
Bake at 325°F for 24-30 minutes.
Frost with chocolate icing while warm.