ChefDLH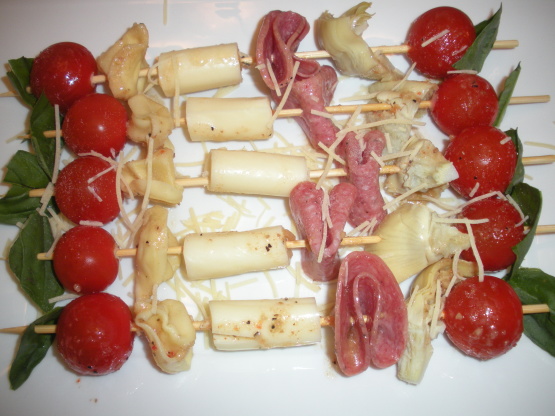 These are so easy, good, inexpensive, made ahead, NOT cooked, and travel great. BBQ's, picnics, dinner parties, pot lucks or just a light side dish with the family. They are so versatile because you can use anything you like. I love cheese tortellini, artichokes, stuffed olives, grape tomatoes and salami. But this is antipasto ... Other great ingredients are; mushrooms, cocktail onions, mozzarella balls (not marinated), sopressata, proscuitto, peppadew peppers are great as well as pepporcinis. Use your imagination. These go fast and are so easy to make.

Loved these! They were gone in a flash. I should have doubled it all! We didn't put capers in the dressing or use olives on the skewers due to family preference but otherwise followed as written. I used Kraft Tuscan Italian bottled dressing and it was tasty. We added the optional mozzarella cheese. The fresh basil and fresh parmesan garnishes were great. These appetizers were cool, fun and minimal work. They aren't no cook as you have to cook the tortellini but if you do that ahead it will be no cook. If not it goes fast. Will make again! Thanks for posting! Enjoy! ChefDLH
Marinade

177.44

ml Italian dressing (I used store bought to make this easy, but you can make your favorite as well)

9.85

ml garlic, minced

14.79

ml capers (mashed, just use a fork to mash them)

Skewers

226.79

g salami, sliced 1/8-inch thick cut into cubes

255.14

g cheese filled tortellini, cooked and drained (I prefer spinach)

425.24

g can water-packed artichoke hearts, cut in quarters, not too small

12

stuffed green olives (I love the ones with anchovies or olives, but use your favorite_)

Optional

mozzarella cheese, balls
pepperoncini pepper
sopressata
cocktail onion

Garnish
These are rough estimates on the amount of ingredients, because you can make as many skewers as you want, and you can skewer them any way you want, and lastly, you can use any combination of ingredients you want.
Skewered -- There is no right or wrong to this. And you can use 3", 6", or 8" skewers. So just add what you want. I like to add 1-2 of each for the bigger skewers and maybe just 1 of each on the smaller ones. I just used the inexpensive wooden skewers found right in the grocery store.
I might put a artichoke heart, olive, ravioli, then a tomato, salami, another ravioli, olive, salami and artichoke. But you get the idea. Just have fun with them.
Marinade -- Mix the bottled dressing, garlic and capers and pour over the skewers in a glass (non reactive pan) 13x9" pan. Make sure you roll them around so they are covered well. Cover with saran wrap and marinate 2-24 hours.
Note, depending on how many skewers you make you make need to make additional marinade.
Finish -- Remove from the marinade and grate some fresh parmesan over the skewers and garnish with a little fresh chopped basil.