Parsnip & Sweet Potatoes Roasted
Bergy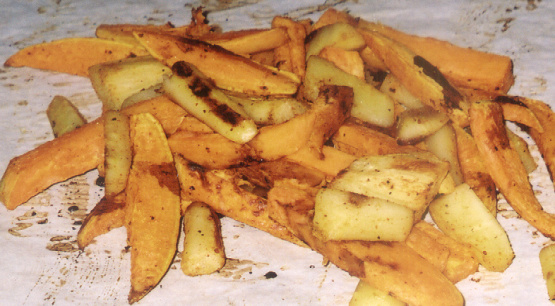 Looking through my veggie bin a saw a sweet potato & a couple of parsnips and I was reminded of two good recipes that I tried recently -Roasted Parsnips & Carrots by Mean Chef and Sweet Potato Rosti by KJ so I thought why not try Parsnips and sweet potato - This recipe is the result. I like to bake the veggies on a baking stone covered with parchment but a cookie sheet will do

It was yummy, I snacked on these all afternoon. I didn't boil the parsnips (oops! I didn't see it!) but I cut the pieces smaller and it baked fine. I also tossed with olive oil and skipped the spray... chemicals :( Thanks for sharing, bergy!
1

medium sweet potato, cut in french fry size pieces

3

medium parsnips, cut in 1 1/2 by 1/2 pieces,core removed

1

teaspoon garlic powder

3

teaspoons cajun seasoning

2

tablespoons soy sauce
salt & pepper
vegetable oil cooking spray
Put the prepared parsnips in boiling water for 5 minutes, drain well.
Spread the veggies out in a single layer on paper towels.
Spray lightly with veggie oil.
Sprinkle with the garlic powder, Cajun spice mix& salt/pepper.
Transfer the veggies to a baking stone or cookie sheet, single layer.
Bake in 350f oven for 20 minutes, sprinkle with the soy sauce return to oven for a further 10 minutes minutes or until tender.
Serve hot.