Rita1652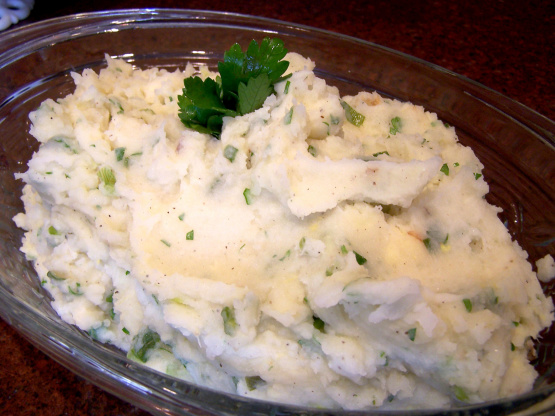 A slightly different version of the traditional Irish potato and scallion dish adds parsnips and lemon zest. I make this for my annual St. Pat's Day Dinner.

I used 1/2 butter and 1/2 olive oil, low fat buttermilk just to keep this lower in fat. I melted the butter and oil in the microwave oven then added the garlic and scallions for 1 minute. while the potatoes and parsnips cooked. Then added the remained of ingredients to the scallion mixture. And kept aside till potatoes were soft and drained. I did rice the potato/ parsnip mixture then mixed all together. I did skip the salt. I served this as part of my St Patty`s Day menu Menu #14836. I do suggest to cook the potatoes and parsnip separate or cut the parsnip smaller then the potatoes. Because the potatoes cook quicker. The parsley and scallions give this a nice freshness.
In pot over high heat combine potatoes and parsnips with enough water to cover; boil.
Reduce heat to medium and simmer 25-30 minutes and then drain.
In same pot melt butter over low heat; add scallions and garlic; cook until softened- about 4 minutes.
Return potatoes and parsnips to pot; remove from heat.
Add next 4 ingredients; mash.
Transfer to bowl; dot with additional butter if desired.
Sprinkle with parsley.