Parsnip Pancakes With Smoked Fish and Caper Sour Cream
Peter J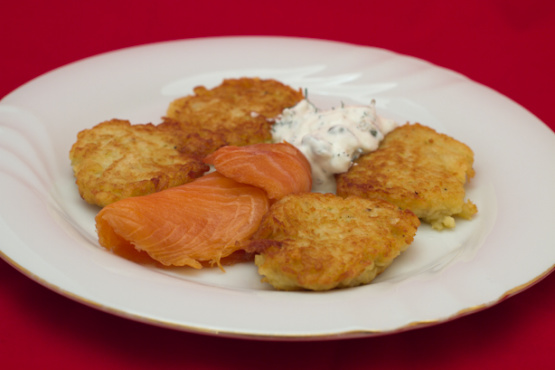 ZWT6 Scandinavia. The sweetness of the parsnips is complemented by the saltiness of the smoked fish, but it's the caper sour cream that makes the whole dish come together. From Flea St. Cafe, these vegetable pancakes are on the menu for breakfast, lunch and dinner. Recipe by Jesse Cool on http://www.foodandwine.com.

This is a winning recipe! We had these for dinner tonight and were surprised by how delicious this dish was. Also, it makes a beautiful presentation with the smoked salmon and the sour cream. I will make these for an upcoming brunch. Thanks for sharing the recipe. Made for ZWT6.
In a small bowl, combine the sour cream with 2 tablespoons of the grated red onion, 1 tablespoon of the dill and the capers; cover and refrigerate.
In a colander set in the sink, combine the remaining 1/2 cup of grated red onion with the parsnips and potato. Let stand for 15 minutes, then squeeze to remove any excess liquid.
Transfer the parsnip mixture to a medium bowl and add the egg, flour, baking powder, salt and pepper. Mix thoroughly.
Preheat the oven to 300°. Heat 1/8 inch of vegetable oil in a large cast-iron skillet.
Drop rounded tablespoons of the pancake batter into the skillet, spacing them evenly and pressing lightly to flatten.
Cook the pancakes over moderate heat until browned and crisp, about 4 minutes per side.
Drain the pancakes on a paper towel-lined platter, then transfer them to a baking sheet and keep warm in the oven.
Arrange 4 pancakes on each plate.
Place 1 1/2 to 2 ounces of the smoked fish and a dollop of caper sour cream alongside. Garnish with the remaining dill and minced red onion and serve.