Parsnip & Caramelized Onion Gratin
Bergy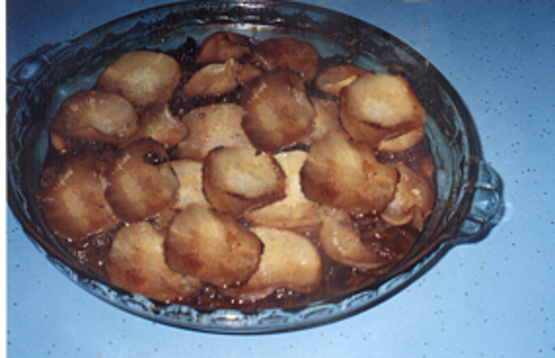 Don't be afraid of the prunes they add wonderful flavor to the parsnips and onions When you are adding the parsnips take time to arrange them in an attractive desgn - don't just dump them in. Make sure that you have a double layer of parsnips on the top as they shrink and tend to curl a bit

Very tasty! I used thick slices of apple (did not have any prunes)and followed the recipe. I really liked this dish, will definitely make it again with the prunes as Bergy suggested. Served with pork tenderloin so the apples were a perfect substitute...
Preheat oven to 400F Spray a 1 1/2 quart gratin dish or other low baking dish with non stick cooking spray or lightly wipe with veggie oil.
In a skillet cook the onions in the oil until golden brown and caramelized.
Use medium high heat but stir frequently apprx 10 minutes.
Add prunes, thyme, salt & pepper, mix well and remove from heat.
Spread half of the parsnips in the bottom of the gratin dish, cover with the Onion Prune mixture, top with remaining parsnip slices Pour in the broth, cover tightly and bake for 1 hour or until the parsnips are soft& cooked Baste the top with some of the juice and broil for a few minutes until it is nicely browned Serve piping hot.