Parsley Pesto (Useful for Many Dishes!)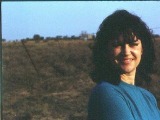 Simple throw-together recipe, for which you really must have garden-fresh flat-leafed parsley. Use lime juice if possible, it's so tangy. Parsley is one of the most nutritious herbs, packed with antioxidants, but seldom used in quantity. I can eat this by the spoonful! This is a mild-tasting thick sauce, which improves in flavour if left at room temperature for a few hours. You might need less olive oil. Please taste the sauce and season to your taste. I find that despite the olives and capers it needs a good pinch of sea salt flakes. This pesto or puree will not overpower delicate tastes like fish. It's great with chicken, roast veggies, potatoes, or spread it thickly on toast and top with poached egg.
Directions
Very fresh flatleaf parsley gives the best results. Do not use "old" parsley which has been in your fridge for a while. Fresh from the garden is best!
Using a blender or food processor, blend all ingredients until a puree forms. It can be as fine or as grainy as you prefer. A blender is easiest to use for this smallish quantity.
Taste for seasoning. The thickness will depend on how much parsley has been used, but the olive oil should be enough to make a thick sauce. Start with 2 tablespoons lemon or lime juice and taste: I did think the 3rd tablespoon was needed to add enough flavour.
Serve in spoonfuls on fish fillets or chicken breasts which have been lightly seasoned. Use with other ingredients such a hardboiled eggs, as a sandwich spread or filling, or on toast, and topped with fried or poached eggs.
Most Helpful
I enjoyed this with some sweet potato salad and look forward to more ways to use it. Thanks!

Lovely pesto! I have the perfect parsley growing in the garden, and this was an ideal way to use it. Quick too. Today I had it alongside some scrambled tofu & toast, but no end to the ways I might use it. I like the slight walnut flavour, but not so much that walnut is all you can taste. Thanks for posting!

This is a great parsley pesto. I added a dash of the caper vinegar and didn't need the extra salt (as others recommended, I didn't add sugar either). No walnuts, so I toasted sunflower seeds and used those. In addition to the other serving suggestions, I think this will be nice stirred into sour cream or yogurt.