Parsley Pesto Chicken Salad With Pine Nuts
mianbao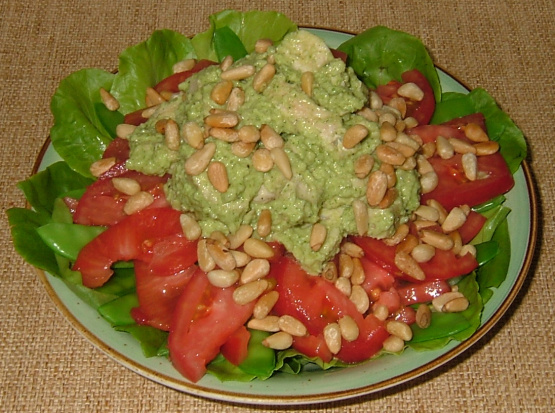 A summer salad I pulled together--I really wanted basil pesto, but the basil wasn't ready to be picked! Prep time assumes you got a ready-cooked chicken on hand, otherwise add an hour and a half (cook/cool time).

I like this. I did take some liberties with the recipe. I wanted to scale it for 1 to 2 servings, but also didn't want as much chicken as the recipe calls for. I shallow fried 4 chicken tenders and cut the amounts for the pesto in half. I think this means that I got more pesto than the author intended, but I'm not complaining. I also added some cooked and cooled snow peas to my salad. This salad is different, but nice because it is different. Thank you very much for sharing your recipe with us. BTW, I wasn't sure if this was intended, but I mixed the pesto and chicken.
Separate chicken from bones and chop or shred to desired consistency. Salt and pepper if needed.
In a food processor, blender, or mini prep food processor (best choice) whirl together parsley, garlic, drizzling in olive oil until it is a nice thick liquid consistency. You can add a little water water to make sure it will coat all the chicken--the recipe amounts are general (I kept adding parsley and oil until it seemed like a good amount to me! Sorry for the imprecision). Stir in the cheese, add salt and pepper if needed.
Toss together the tomatoes with the chicken and lemon juice. Sprinkle the top with the cheese, parlsey and pine nuts (they will tend to get soggy if they are mixed in and left).
You could probably 'tart this up' a little by mixing in a little dijon to the pesto or even mayonnaise, just a thought, I've not tried it.