Parsley has a healing effect. This is suitable for an oily skin. Do a small test-patch first on your face. I found it left a greenish glow on my skin but tried it out on others and it was alright.
Directions
Mix all the ingredients, you get the best result when you put this in a small blender or food processor because that makes it more of a paste.
Put on your face, and leave for at least 15 minutes.
Rinse of with warm water.
Reviews
Most Helpful
Loved it! I needed a little time for myself and this was my treat. Will make this a lot!

I was pleasantly surprised at how much I liked this recipe. It made my skin tingle slightly while on and left it feeling soft and smooth after it was removed. I put some back in the refrigerator to use again. Thanks for sharing this recipe.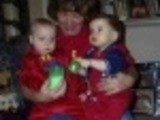 I made this for a friend today and sent it off to her as a little gift just for her. Besides making her feel very special, she told me it did wonders for her skin. She said it made her skin feel sooo baby soft and smooth. She's in love with this recipe and she could hardly believe that it was so simple to make! Update: I have made friends with this wonderful lady in the Pizza hut nearest to my apartment here in Orlando and I took this recipe for her to try. She said she absolutely loved it and was very thankful to you for sharing it! Thanks again!