Parmigiana Thighs with Creamy Noodles
lets.eat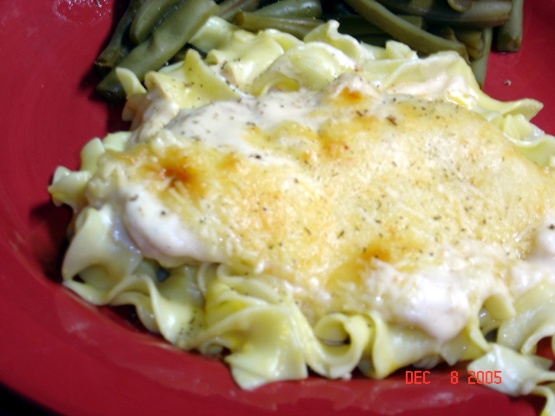 Chicken thighs baked layered with sauce and cheese, served over creamy broad egg noodles. My favorite way to make chicken thighs.

Thumbs up! Used chicken tenderloins so they only needed minimal pounding. For cheese sauce went with Classico 4 Cheese Alfredo. I think this was great the way it is, but mushrooms and pimento added would be nice. Served w/green beans that I had canned this past summer. Thanks for another Great One *Pixie*!
One at a time place the thighs between two pieces of plastic wrap and pound with a rolling pin until flattened to approx 1/4" thickness.
Preheat oven to 325 degrees F.
Put the flour on a plate and dredge both side of the thighs in the flour.
Fry the flour coated thighs in batches by melting 1 tbsp butter in a nonstick pan and frying 4 of the thighs.
Turn once, cooking until the thighs are lightly browned and barely done (don't worry if they're underdone, they'll finish cooking in the oven).
Repeat until all the thighs are cooked this way.
Place 6 thighs in a 13" x 9" pan (overlapping if necessary), top with 1/2 the pasta sauce and 1/2 c cheddar cheese.
Place the remaining thighs evenly on top and cover evenly with remaining pasta sauce.
Sprinkle with 1/2 c cheddar cheese.
Sprinkle evenly with parmesan cheese.
Bake for 25-30 minutes until browned and bubbly.
About 10 minutes before thighs are ready, cook the broad egg noodles according to package directions, drain well and return to pot.
Add the cream of chicken soup and 1/2 c cheddar and stir over very low heat until cheddar is melted and pasta is evenly coated.
Cover and keep warm until thighs are done.
Serve the thighs and sauce either over or beside the broad egg noodles.